Moissanite Engagement Rings, Diamond Jewelry and much more...

Thanks for visiting our site!
Let us show you what's behind the scenes around here...
About Us
If you were looking for an exceptional company that makes really high-end jewelry with ethical and responsible practices, you just found it!
We are a select group of mega skilled craftsmen capable of creating that piece of jewelry of your dreams.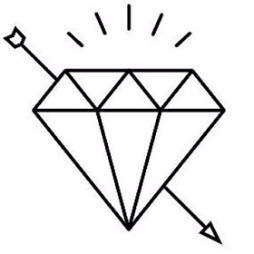 Our Mission   
"To provide the ultimate jewelry shopping experience through our obsessive commitment to quality and exceptional customer service while protecting the environment"
Seriously, we live our mission statement! If any day we fail to delight our clients, then there would be no reason for us to stay in business.
The core essence of our brand
To craft extremely high-end jewelry and keep it budget friendly by combining the most precious metals, stunning diamonds and the superior brilliance of the Forever One Moissanite from Charles & Colvard.
We will always prioritize environmental and ethical responsibility in the creation of our jewelry while maintaining the highest standards of craftsmanship.

Juan and Lauren
MoissaniteRings.com was co-founded by Lauren and Juan, who started dating back in 2002.
Juan, with more than eleven years of experience decided to leave the renowned Tiffany & Co. to start his own business venture back in 2011. Since then he has been designing and crafting stunning pieces of jewelry from his private studio in the heart of Manhattan.
His wife Lauren stood by him the whole time managing the daily operations and providing flawless customer service to their Clients.
MoissaniteRings.com is a company that combines the latest technology in jewelry design and manufacturing with decades of craftsmanship experience. Our specialties are Engagement Ring and Wedding Bands but we love to make all types of custom work.
We truly hate mass production. Every single piece is made to order and tailored in New York within two weeks or less. Guaranteed!

Our Promise to you
DIAMOND AND GEM SOURCING: "Always ethical. Always Conflict Free"

PRECIOUS METAL SOURCING: "Always recycled. Always from Earth friendly refineries"

OUR MOISSANITE: "Always Charles & Colvard"

TURN AROUND TIME: "Ships in 2 weeks or less. Guaranteed"

SATISFACTION: "If you don't absolutely love it, we'll take it back"

QUALITY: Continuously monitor and analyze quality throughout the process"

TECHNOLOGY: "Never stay behind"

PRICE: "Always fair. Always budget friendly"
"Every piece is proudly made in New York City"